Central Asia is one of the most diverse and exciting travel destinations in the world,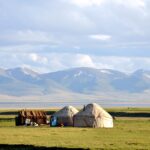 Central Asia's hidden destinations
Unveiling Central Asia's hidden gems: offbeat destinations that are little-known, under-visited, and sure to captivate adventurous travelers.
Paramount Journey is a pioneering adventure travel company which operates in the mountainous Central Asian country of Tajikistan, the physical highpoint of the ancient Silk Road. It is the brainchild of a passionate group of adventurers and explorers who want to share the natural wonders of Tajikistan, and its vibrant history and culture, with the outside world. Together we are proud to plan, promote and run excing, professional adventures which enable parcipants to explore Tajikistan well beyond the usual tourist trails. One-off expedions for thrill seekers are provided alongside shorter, more manageable treks, and individually tailored programmes so that everyone can discover Tajikistan, whatever their age, fitness level, or interests. We are acve in developing imaginave new products: Paramount Journey ran a pioneering combined MTB and trekking tour in the Fann Mountains, and the first commercial expedion from the Yagnob Valley to the Upper Zarafshan. And this is only the beginning!
Lorem Ipsum is simply dummy text
I visited the Fann Mountains with Paramount Journey in early October for a four-day trek (starting and finishing in Dushanbe). It was my first visit to Tajikistan. Paramount Journey were... read more outstanding from start to finish. Alovaddin was extremely quick to respond and to customise a trip for me, and our guide Humayan was excellent company: engaging, patient and a brilliant source of information on all things Tajik. The trek was challenging, but the views, the campsites, the company and the sheer beauty of the mountains made it amply worth it. Thank you again, and I hope to be able to return one day!

Go546085


16.11.2022

Iskanderkul Weekend - My wife and I and two friends of ours enjoyed an excellent autumn weekend Iskanderkul, one of the top tourist spots in Tajikistan. It was a very smooth and... read more easy process to set up this trip with Alovaddin's expertise. He was very responsive and gave good advice to us as "newbies" to traveling in Tajikistan. He arranged our accomodation, transporation and meals. Our driver, Hussein, was very professional, knowledgeable, gracious and fun. Hussein gave suggestions about places to stop for photos and short hikes. Both Hussein and Alovaddin also speak English very well. We stayed at the Tourist Hotel on the shores of the lake and highly recommend this accomodation. I definitely plan to consult Paramount again for my furture travels in Tajikstan.

cplattv


14.10.2022

Travel to Tajikistan - We took a 7 day tour to Tajikistan taking in Dushanbe and trekking in the Fann Mountains. The mountain scenery was breathtaking and the tour was very professionally arranged.... read more Our Guide spoke perfect English and was very knowledgeable and enthusiastic. We certainly learned a lot about Tajikistan.
A terrific crew took care of the camping arrangements and the trek was carefully thought out and allowed us to acclimatise to the change in altitude. All together an excellent trip and we thoroughly recommend Paramount Journey.

John & Graham

grahamhV636OW


09.09.2022